Atlantic City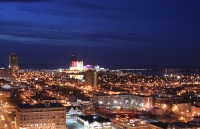 Atlantic City © Ron Miguel
Atlantic City had its heyday during the 1920s, as city dwellers flocked in their thousands to enjoy its lovely seaside. Originally the playground of the rich and famous, the holiday spot is one of oldest in the country and boasts the world's first boardwalk, built in 1870 and running along an eight-mile (13km) stretch of beach.
The city is home to the first big wheel in the USA, the first colour postcards, and the first Miss America beauty pageant in 1921. Amusement parks and nightclubs line the boardwalk, meaning visitors are always entertained, day or night.
New Jersey instituted legal casino gambling in the 1970s, which has resulted in a collection of grand gambling halls and extravagant casino-hotels reminiscent of Las Vegas. Designs range from the Showboat to the onion domes and gigantic elephants of the Trump Taj Mahal.
Today Atlantic City is famous as a gambler's paradise with a vibrant nightlife. It also offers amusement rides, souvenir shops, and children's entertainment in a bid to market itself as a family holiday destination and live up to its nickname as the 'The World's Playground'.