Cape May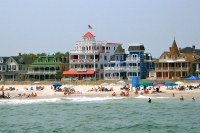 Cape May © Smallbones
Situated at the southernmost tip of the New Jersey Cape, the holiday favourite of Cape May is the jewel of the Atlantic Shore and the nation's oldest seaside resort, known for its calm beaches, historic sites and many nearby natural attractions that contrast with the flashier Atlantic City.
With a fairytale collection of authentically restored and beautifully preserved Victorian homes, the entire town of Cape May was designated a National Historic Landmark. It is internationally-recognised as one of the best bed and breakfast inn resorts in the country.
The ambience of gingerbread trim inns, old gas lamps, and colourful stained glass windows offers visitors a peaceful change of pace from most other holiday resorts along the shore. Huge flocks of birds draw birdwatchers to the Cape May Point State Park during the spring and autumn migrations.
Cape May offers modern as well as historic accommodations, fine dining and shopping, and lots of nature walks, and its easy-going and laidback atmosphere is apparent even at the height of the summer holiday season.