Lake Superior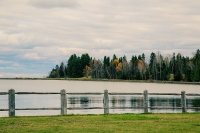 Lake Superior, Thunder Bay, Ontario © Tony Webster
Lake Superior is the largest of the Great Lakes of North America and Ontario shares this vast expanse of water with the US states of Minnesota, Wisconsin and Michigan.
The shores of the lake have been inhabited for over 10,000 years and evidence of some ancient communities can be found on the Canadian side, although the main attractions for visitors are the rugged shoreline and beautiful wilderness landscapes, keeping lovers of nature occupied and interested for hours.
Visitors will enjoy all that the lake has to offer, including one of the many tours on offer to tourists interested in the region and in its beautiful lake.
Address: Ontario, Canada