Tombs of the Ming Dynasty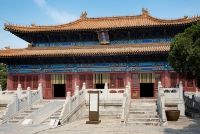 Ming Dynasty Tomb © xiquinhosilva
Built by the emperors of the Ming Dynasty of China, the majority of surviving Ming tombs are clustered near Beijing and easily reached on short excursions out of the capital. Thirteen emperors' mausoleums, dating from between 1368 and 1644 and collectively UNESCO-listed, can be seen in the Ming Tombs Scenic Area at the foot of Tianshou Mountain.
Currently only three of the tombs are open to the public (Chanling, Dingling and Zhaoling) but this is more than sufficient as all the tombs are similar in design and the three that can be explored are arguably the most interesting. The Changling Tomb is the largest, oldest and best preserved, looming majestically at the end of the Sacred Way. The Dingling Tomb is the only one which has been properly excavated but tragically many of the artefacts and the remains of the emperor and empresses entombed in the mausoleum were destroyed during the Cultural Revolution. Even so, the excavated Underground Palace in Dingling is fascinating and some magnificent artefacts can still be viewed.
Many operators in Beijing offer tours to the Ming Tombs, often combined with trips to the Great Wall and other nearby attractions. Visitors travelling independently will need to pay entry to each tomb separately.
Opening times: April to October 8am - 5.30pm; November to March 8.30am - 5pm.
Admission: April to October: Dingling CNY 65; Changling CNY 50; Zhaoling and Sacred Way CNY 35. November to March: Dingling CNY 45; Changling CNY 35; Zhaoling and Sacred Way CNY 25.