Valparaiso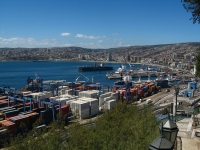 Valparaiso, Chile © Hector Garcia
Valparaiso, only 75 miles (120km) from Santiago, has a real bohemian spirit. It is an historic port city; in fact, in the 1800s it was the main shipping hub of the Southern Pacific, which brought wealth, floods of European immigrants, and that deliciously naughty atmosphere found in places frequented by sailors. Valparaiso clings to the steep sides of 45 hills along the coast, a tricky geography that makes epic staircases and quaint old funiculars integral to getting around.
The city is a UNESCO World Heritage site and home to a wealth of well-preserved historic architecture, but it is the very modern street art phenomenon which truly sets the place apart. The sheer amount of murals and graffiti, mixed up with grand old buildings, makes the whole city feel like a weird work of art. To add credence to this artsy atmosphere there are musicians busking on seemingly every corner and artists selling their work at improvised stalls all over the picturesque hillside districts.
Unsurprisingly, Valparaiso is renowned for its vibrant nightlife and there is a surplus of cool places to eat and drink in the city. Apart from taking in the art, colourful architecture and numerous pubs, travellers should be sure to visit the quirky home of beloved poet Pablo Neruda, which offers glorious views over the city as well as insight into his life.