Vina del Mar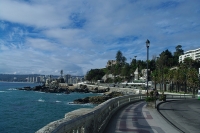 Coastal Road, Vina del Mar © mig rod
Vina del Mar is a short bus ride from Santiago, right next to Valparaiso; in fact, travellers could be forgiven for thinking the two coastal cities are one and the same. Vina del Mar has a very different character to bohemian Valparaiso though - it is a safer, more manicured city celebrated for its fun resort culture, its malls and its beautiful beaches. Vina del Mar translates as Vineyard of the Sea, and the city's beautiful parks have earned it the romantic nickname of Ciudad Jardin, or Garden City.
Pretty Vina del Mar is a popular summer resort and weekend retreat for the wealthy inhabitants of Santiago and the beaches and casinos boom in the peak summer months between December and February. Like neighbouring Valparaiso, the city boasts a rollicking nightlife and a good restaurant scene.
Vina del Mar's beaches are its biggest asset but although they are very picturesque they are not always safe for swimming. Visitors should be careful not to underestimate the power of the waves and currents and should obey directives from lifeguards when they are present.