North Luzon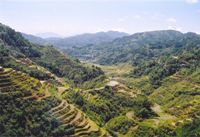 Banaue Rice Terraces © Magalhaes
The northern reaches of Luzon Island, far from the urban sprawl of Manila in the south, attract intrepid travellers in search of adventure and an authentic experience of traditional Filipino culture. North Luzon is mountainous and lush, known for its beauty but not its infrastructure. Some lovely beaches beckon travellers in the far north but excursions north from Manila are usually planned to take in the unspoilt mountain and forest landscapes and the region's tribal cultures.
In a string of villages around Banaue, one of the most popular regions for travellers in North Luzon, people still live according to age-old tribal traditions. The main attraction in the area is the Banaue Rice Terraces, a UNESCO World Heritage site dubbed the 'eighth wonder of the world' by locals. Constructed about 3,000 years ago, the terraces start from the base of the Cordillero Mountains and extend upwards for thousands of feet, cleverly irrigated by channelled streams and springs. There are also waterfalls and natural pools nearby as well as scenic hiking trails to explore.
Another popular travel hub in mountainous North Luzon is the little town of Sagada, which has become a sort of backpackers' haven. Hiking and caving are rewarding activities in this picturesque area but the main draw card is a series of ancient burial caves in the mountainside, where remarkable 'hanging coffins' can be seen perched on limestone outcrops. A hike through the jungle in the Valley of Echoes will bring travellers to these rather haunting cliff tombs, taking in jungle scenery along the way.