Pulau Pangkor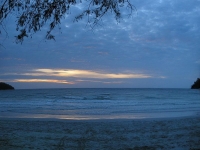 Sunset on Pulau Pangkor Island © Gryffindor
A mountainous island with an interesting and somewhat tempestuous past, Pulau Pangkor welcomes visitors to its beautiful beaches and resorts. Now with a population of approximately 25,000, the island was once a hideout for pirates and the chosen location for a Dutch fort constructed to assert trade dominance in the region. The Dutch, however, were not in charge for long, with local leaders allying with the British to force them out.
Thankfully the days of colonisation and violence are long gone and guests now find the island an ideal spot for relaxation. Pulau Pangkor proudly promotes eco-tourism and the island is home to an impressive variety of wildlife as well as lovely scenery. The tourist infrastructure is very good, with a variety of accommodation available and lots to keep visitors entertained. The beaches are easily accessible and favourites include Pasir Bogak, Teluk Nipah and Coral Beach. Those looking to delve into some island history can enjoy attractions such as the Fu Ling Kong temple, an ancient Chinese temple; Tiger Rock, a granite boulder bearing the etchings of a tiger dating back to 1743; and the Dutch Fort. There are also tombs to be explored and exciting treks up Tortoise Hill for the adventurous.
Known for its spectacular beaches, unspoiled forest and striking animal and marine life, as well as its agreeable climate, Pulau Pangkor is a wonderful Malaysian retreat.