The High Line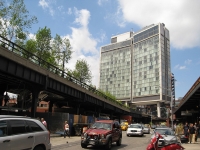 The High Line, NYC © Jessica Sheridan
The High Line, or High Line Park, is a verdant elevated strip hovering between the skyscrapers of Manhattan's West Side. Built on what was once a freight rail line, this unique public park brings a welcome splash of greenery into the district.
Construction of the park began in 2006 and finished in 2014. It now draws millions of visitors annually and has led to a real estate boom in the areas it passes through, with apartments overlooking the pretty strip rocketing in value.
The High Line features viewpoints, recreation areas, and public spaces for exhibitions and productions. The most popular spots for cultural diversions in the park are the 14th Street Passage and Chelsea Market Passage, semi-enclosed sections frequently used for public programs and art exhibitions.
Picnic spots on the 23rd Street Lawn are ideal for those who just want to find peaceful spots to read, rest, or admire the view. Alternatively, kids love features like the Pershing Square Beams west of 11th Avenue. There, the original framework of steel beams is exposed to create a garden playground.
Address: The High Line runs from Gansevoort Street in the Meatpacking District to West 34th Street and can be accessed at numerous points.
Website: www.thehighline.org
Opening times: December to March 7am - 7pm; April to May 7am - 10pm; June to September 7am - 11pm; October to November 7am - 10pm.
Admission: Admission is free and there are free public tours but donations are appreciated.