Bosque de Chapultepec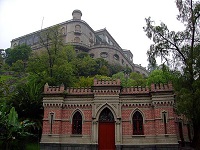 Chapultepec Castle © Nuno Tavares
Bosque de Chapultepec is a truly immense urban park. This green lung of mexico city spans over 686 hectares (1,695 acres), and pumps the metropolis full of fresh, clean air. It's home to museums, boating lakes, monuments, a zoo, playing fields and Chapultepec Castle, among other attractions.
Bosque de Chapultepec is where Mexico City locals spend their lunch breaks and weekend days. It's Mexico's answer to Central Park, and on any day it is brimming with people. In the centre of the park, the Chapultepec Castle stands on a hill, bedecked with stained glass windows and red brick turrets. It houses the National History Museum, and offers incredible views of the city.
There's plenty to see in the park, but make sure you allow time to grab a taco from a vendor, and take a pedal boat out on the lake. It's also quite possibly the best place in the city to kick back and indulge in some people-watching.
Address: Bosque de Chapultepec I Secc, 11100 Mexico City, CDMX, Mexico