Museum of Asian Art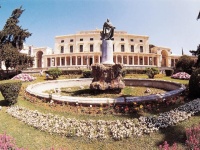 Although it may seem strange to visit a museum dedicated to Eastern art and antiquity while on holiday in Greece, this museum is very interesting and the only one of its kind in the country. Gregorios Manos, the founder of the museum, was a Greek ambassador to Austria who was passionate about the East and purchased at art auctions about 9,500 authentic Chinese, Korean and Japanese artefacts which formed the basis of the museum collection when it was opened in 1928. The permanent collection includes arms and armour, bronze, ceramics, paintings, sculptures and textiles from China, Japan, Korea, India and a few other Asian countries. The three-storey building housing this collection of art is a beautiful neoclassical structure built by the British in 1820 when the Ionian Islands were ruled by Britain. The building itself justifies visiting the museum for those with an interest in architecture. The museum is a peaceful oasis which immerses the visitor in another world and culture. It is situated at the north end of the Esplanade in Corfu Town.
Address: Palea Anactora, Spianada
E-mail: matk@culture.gr
Website: www.matk.gr/
Telephone: +30 26610 30443
Opening times: Tuesday to Sunday 8am to 3pm, closed Monday.
Admission: €3 (full price), €2 (concessions).