Amalfi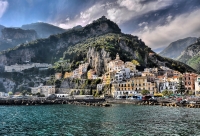 Amalfi © Alpha 350
The town of Amalfi sits elegantly against a backdrop of steep cliffs and thickets of lemon trees. Terraced buildings climb down to the shoreline, their pastel hues enhancing the fairytale allure of this Italian seaside retreat.
A centre of rich historical significance, Amalfi was once one of the great maritime republics which thrived off trade and rivalries with Pisa, Genoa, and Venice. The Piazza del Duomo (the Cathedral Square) is the main hub, and is dotted with cafes, gorgeous boutiques, and romantic restaurants. A promenade allows visitors to gaze over the picturesque marina and beyond to the memorable emerald waters.
The main beach is the Marina Grande, a sheltered beach at the foot of the town. It's a shingle beach, as is common along the Amalfi Coast. Those seeking sand must head out to the villages of Minori and Maiori.
While for many visitors a trip to Amalfi is all about soaking up the sun with a drink in hand, there are also some attractions for those looking for a more cultural experience. The 9th-century Amalfi Cathedral is a breathtaking example of Arab-Norman Romanesque architecture. The town is also home to a couple of museums, including the fascinating Museo della Carta and the Arsenal of the Maritime Republic.