Achilleion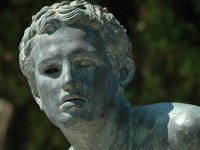 Hermes at Achilleion © Jennifer Slot
Empress Elizabeth of Austria built the Achilleion in 1890. Standing just south of Corfu, the palace was intended as a memorial to her son, Rudolf, following his death by apparent suicide one year earlier.
Neoclassical in style, the palace takes the mythical figure, Achilles, as its central theme, and features numerous statues and motifs associated with him. The gardens are also set with a number of statues commissioned by the Empress, including German sculptor, Herter's, 'Dying Achilles'.
After Elisabeth's assassination, the German Kaiser Wilhelm II purchased the Achilleion property and used it as a summer home. During his time, the palace hosted many notable guests and became a hub of European diplomacy. The Kaiser added some artwork of his own.
The palace transitioned to a new purpose when it served as a military hospital during World War One, and as a military headquarters in World War Two. Later, a brief spell under private ownership saw it house a casino in the upper storey. It has since been reclaimed as a museum, and as a venue for state events.
All told, the Achilleion houses many valuable artworks and is well worth a visit. Its sprawling gardens are also a joy to explore.
Address: Six miles (10km) from Corfu Town, in Gastouri village.