Achilleion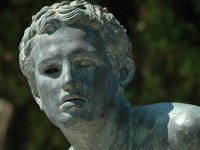 The villa of Achilleion was built for Empress Elizabeth of Austria in 1890 as a memorial to her son, Rudolf, after his death. The villa, Neoclassical in style, takes as its central theme the mythical figure of Achilles and features numerous statues and motifs associated with Achilles and the Trojan wars both inside and out. The gardens are also set with a number of statues commissioned by the Empress, including the famous 'Dying Achilles' by German sculptor Herter. After Elisabeth's assasination the German Kaiser Wilhelm II purchased Achilleion in 1907 and used it as a summer residence. During his periods of residence the villa hosted many notable guests and became a hub of European diplomacy. The Kaiser also added some art work of his own. During World War One the palace was used as a military hospital and in World War Two it was used as a military headquarters. Briefly, the villa was privately owned and housed a casino in the upper storey but it has since been reclaimed as a venue for state events and a museum. There are many valuable works of art to take in and the Achilleion is well worth a visit. The sprawling gardens, with lovely views, are a joy to explore.
Address: 6 miles (10km) from Corfu Town, in Gastouri village.
Opening times: Monday to Friday, 8am to 7pm; Saturday and Sunday, 8am to 2:30pm.