Tofino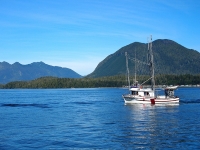 Tofino © theforeignflash
Once a simple fishing and logging town on Vancouver Island, Tofino is swiftly becoming a popular holiday destination for travellers from around the globe. The resort enjoys natural beauty, a mild climate, and plenty of outdoor activities, including kayaking, whale watching, and fishing. In addition to hot springs and gorgeous beaches, it also serves as Canada's premier surfing spot.
Tucked away at the entrance of the Clayoquot Sound, Tofino is home to the Pacific Rim National Park and islands with ancient primeval forests. Home to only about 2,000 locals, it serves as an ideal spot to escape the hustle and bustle of city life.
Hot Springs Cove, accessible only by air or sea, is open year round and visitors can soak in rock pools filled with boiling spring water cooled by ocean surf. Other popular sights include the Eik Cedar, an 800-year-old tree that was rescued by residents after it was condemned to be felled; the Tofino Botanical Gardens with acres of forest, shoreline, and gardens; and the Whale Centre Maritime Museum housing fascinating artefacts.
The Wickannish Interpretive Centre, containing interesting information about the region and the Nuu-chah-nulth First Nations, the area's original inhabitants, is well worth a visit. Tofino offers visitors the perfect combination natural beauty, fun activities, and relaxation.
Website: tourismtofino.com