The Palace of Knossos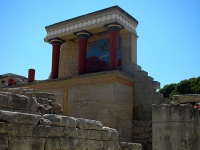 The Minoan palace at Knossos, covering an area of 215,278 square feet (20,000 sq metres), is one of the world's greatest sightseeing experiences and a must if you are in the area. It consists of four wings, arranged around a rectangular, central court. The palace originally had many storeys, was built of ashlar blocks, and had walls decorated with splendid frescoes. British archaeologist, Arthur Evans, who excavated most of the labyrinthine Knossos site, has painstakingly restored some sections of the palace. The remains now visible are actually not those of the original palace, which was built around 2,000 BC and destroyed by an earthquake about 1,700 BC. A subsequent, more complex, palace was then constructed and it is these ruins which can still be seen and parts of which have been restored. The palace was first unearthed in 1878 by a Cretan merchant and antiquarian, but was not systematically excavated until 1900. The Knossos site is about three miles (5km) south of Heraklion.
Address: Knosos, Iraklio
E-mail: protocol@kgepka.culture.gr
Telephone: +30 2810 231940
Opening times: Open daily. April to October: 8.30am to 8pm. October to March: weekdays 8.30am to 5pm, weekends 8.30am to 3pm.
Admission: €6 (Concessions €3), free for under 19s.