Heraklion Archaeological Museum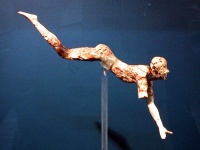 A visit to the Minoan palace at Knossos should be complemented with a visit to the wonderful Archaeological Museum in Heraklion. This is one of the largest and most renowned museums in Greece, and even in Europe, and the Minoan collection is the best of its kind in the world. The museum features artefacts spanning 5,500 years of Cretan history and prehistory from the Neolithic (5000 BC) to the Late Roman Period (late fourth century AD). The most important aspect of the collection are the Minoan artefacts which include some real archaeological and artistic treasures. Thousands of artefacts depicting the intriguing Minoan culture are on display, from magnificent bull-headed drinking vessels to the mysterious Phaistos disk inscribed with undeciphered symbols. The exhibition takes up 20 rooms and is arranged chronologically. There is a museum shop where you can buy copies, books, postcards and the like, and a museum cafe for refreshments.
Unfortunately, the museum has been under construction for several years and there is still only a limited exhibition on display. However, the most famous pieces are still viewable and even the temporary exhibition is captivating and well worth visiting.
Address: Xanthoudidou Street, just off Plateia Eleftherias
E-mail: amh@culture.gr
Website: www.heraklion-crete.org/archaeological-museum/
Opening times: Daily 8.30am to 7pm in summer (Monday 8.30am to 1pm); 8.30am to 3pm in winter (Monday 8.30am to 1pm).
Admission: €4 (Concessions €2), free for under 19s.