Castries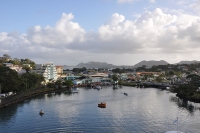 Castries © Robert Cutts
Castries is best known as a port of call for the multitude of cruise ships that dock in the harbour each year. The city is not renowned for sightseeing opportunities. However, visitors who linger can enjoy the lively market on Jeremie Street, wander through Derek Walcott Square (so-named in honour of the Nobel Prize-winning poet), and take in the views over the harbour from the top of Morne Fortune.
Most of the buildings are fairly new, Castries having been destroyed several times by fire during its history, most recently in 1948. One of the main attractions still standing is the Cathedral of the Immaculate Conception. Built in the late 19th century, it is the largest cathedral in the Caribbean, and home to a collection of colourful frescoes.
There are a handful of good restaurants on the waterfront. Some remains of the defences put in place by the island's various occupiers still stand to draw the attention of visitors. Castries also serves as a good base for exploring the island, whether by land or by sea.