The Samaria Gorge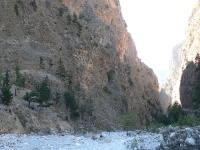 The Samaria Gorge National Park in the White Mountains of western Crete is said to be one of the most splendid scenic parks in Europe and the hike through the gorge is breathtaking. It is an arduous trip but well worth it to see one of the great natural wonders of Europe and most people will be able to handle the walk although they may find it strenuous. From the top of the gorge it is a 10 mile (16km) hike through the dramatic geological formations and wildflower-strewn cliffsides of the National Park. There are lots of awe-inspiring views and natural features along the way and it is a dream for photographers. Once inside the gorge you tend to follow the water, which helps keep one cool but you will be in direct sun at least part of the time so it is important to come prepared with hats, sunscreen and water. Hikers are always delighted to see that there are restaurants and bars at the end of the walk to provide well-earned refreshment. From the village of Agia Roumeli at the end of the gorge hikers board boats to sail to Khora Sfakion or Paleohora where there are buses back to Haniá, Rethymnon or Heraklion. If you are a nature-lover or enjoy hiking this should be one of the absolute highlights of your visit to Crete.
Transport: There are public buses to Omalos near the top of the gorge. Organised tours are also available
Opening times: The gorge is open 6am-3pm, generally from May to October (depending on weather conditions).
Admission: €5 to enter the park; free for children under 15; €2.50 for students.