Matthias Church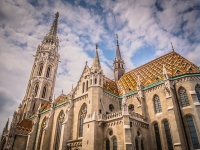 Matthias Church © Randy Connolly
Situated in the centre of the Castle Quarter, the 700-year-old Church of Our Lady is popularly known as Matthias Church for the nation's famous ruler, King Matthias (1458-90), a patron of learning and the arts who reconstructed the Hungarian state after decades of feudal anarchy. With its distinctive multi-coloured tiled roof and Gothic spire, the church is one of Budapest's best-known structures, and it was here that the nation's kings were crowned and King Matthias was married.
Today the church continues to hold High Mass, as well as concerts, organ and choir recitals owing to its magnificent acoustics. Matthias Church's architecture is a mixture of styles from the various kings, occupations and periods. When the Turks occupied the Castle in 1541 it was converted into a mosque, and the interior walls were whitewashed and painted over with scenes from the Koran. It suffered heavily in the later siege and was restored again in the 19th century, reconstructed in its characteristic neo-Gothic style. Remains of the original medieval frescoes have been discovered underneath the whitewash.
The interior is richly decorated with gilded altars, statues, rose windows and frescoes. Inside is the Church Museum, which gives access to the crypt, and a small collection of religious treasures and jewels. A fantastic contrast is formed by the reflection of the Gothic church in the sleek dark glass sides of the contemporary Budapest Hilton alongside.
Address: H-1250 Budapest, Pf. 22.