The Great Synagogue and Jewish Museum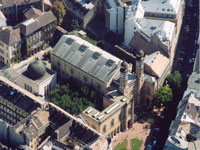 Great Synagogue, Budapest © Civertan Grafikai Studio
Situated within Erzsébet Town, the charming old Jewish quarter and former ghetto, the Great or Central Synagogue is the largest in Europe and the second largest in the world, able to seat 3,000 people. Completed in 1859 the style is typically Byzantine-Moorish, with exquisitely patterned brickwork in the red, blue and yellow colours of the city's coat of arms. Gilded domed towers, archways and beautiful window designs are just some of the features that make this one of Budapest's landmarks.
The splendid interior glitters with lights, gilded arches and balconies line the walls, the ceiling is covered in Stars of David, and the floor is tiled in decorative stars. On Jewish festivals it is packed with Jews from all over Hungary who come to celebrate within its splendour.
Next door is the Jewish Museum containing relics from the Hungarian Jewish Community, including religious objects from festivals, and the Holocaust Memorial Room. In the courtyard is the Holocaust Memorial in the shape of a weeping willow tree, each metal leaf engraved with the names of Nazi victims.
Address: Dohany utca 2-8 in VII district.
Website: www.greatsynagogue.hu/gallery_syn.html
Telephone: +36 (0)1 317 2754
Opening times: Hours vary by season, check the website for specific dates.