Parliament Buildings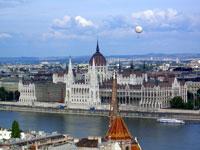 On the bank of the Danube stands one of the world's most beautiful parliament buildings, an imposing sight and a prominent feature of the city's panorama. With its red dome, white stone lace ornamentation and spires, it is the city's most decorative structure. Stone lions flank the entrance guarding a rich interior of marble and gold, statues and columns, and magnificent artefacts, including the 1,000-year-old crown of the first Hungarian King, all of which can be viewed on a guided tour. The grand edifice, stretching for 820 ft (250m) along the embankment, is one of the biggest national assemblies in the world. The interiors and architecture are truly magnificent and a visit to Budapest is simply not complete without exploring this very rich and historic place. For art or architecture lovers it is a must. It seems like an enormous palace or cathedral and some of the art work collected here is remarkable and priceless.
As you are entering a parliament building you will be expected to submit to security checks. The tours take between 45 minutes and an hour.
Address: District V, Kossuth Lajos tér 1-3
E-mail: idegenforgalom@parlament.hu
Website: www.parlament.hu
Telephone: +36 (0)1 441 4904/ 4415/ 4138/ 4412 (for bookings)
Transport: Metro 2 to Kossuth tér; bus 15; trolley bus 70 or 78; tram 2
Opening times: Parliament is closed on national holidays. English tours are available at 10am, 12pm and 2pm daily. For tours in other languages check the website.
Admission: HUF 3,500 (adults), HUF 1,750 (students). Tickets sold at the gate a quarter of an hour before next tour.