Heviz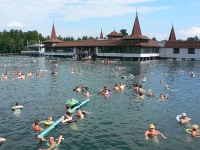 Thermal Lake © Heather Cowper
Hévíz is the site of Europe's largest and the world's second largest thermal lake, Gyógytó. It is the most extraordinary sight with its huge milky blue surface covered in water lilies and steam. The warm water wells up from a volcanic crater spring about 128 ft (40m) below the surface and provides year round swimming, although the recommended maximum time in the water during any one session is one hour. The mud on the bottom and edges is said to be slightly radioactive which is good for various medical conditions but only in small doses.
The complex offers indoor and outdoor swimming; a pavilion in the centre of the lake is reached by a covered bridge and indoor swimming takes place in an area enclosed with Plexiglas. Gaps in the plastic lead to the outdoor swimming area - the rest of the lake - where swimmers can float among the water lilies and swim between the 'rest' platforms bobbing on the surface. There are also various other spa and health treatments that can be enjoyed.
Address: Lake Balaton region
Website: www.heviz.hu/en
Transport: Heviz's nearest train station is at Keszthely. Buses run between Keszthely and Heviz four times an hour. Buses are also available from Budapest and a number of other Hungarian towns.
Opening times: Although it is open year-round the lake does have reduced hours in winter: it is always open from 9am to 5:30pm. Check website for details.