Eger Castle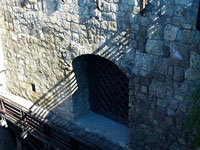 Eger Castle © ben britten
The medieval castle, which sits on the small hill overlooking the town, has been the site of numerous historical events and is one of the most popular and famous attractions in Hungary. The original buildings included a cathedral and the Bishop's Palace dating from the 13th century; the castle was later fortified and the walls provided the cover for the determined defence against the Turks by a small and outnumbered army. The women who fought alongside the soldiers claimed their place in national consciousness during this much-celebrated historical event.
The Dobó István Fortress Museum, in the restored Palace, is one of the most popular museums in Hungary and has exhibitions on the history of the town and castle. Also within the castle grounds is the Heroes' Hall, which holds the grave of the celebrated leader, Dobó István, as well as the Prison Museum, Waxworks, and the underground, rock-hewn artillery enclosures. The best views of the town are from the castle walls.
Address: Just outside of Eger town
Website: www.egrivar.hu/en
Telephone: +36 (0)3 6312 744
Opening times: Hours vary by season; check the website for details.
Admission: For all exhibitions: HUF1,400 adults, HUF700 age groups: 6-26 and 62-70. Walking tickets without entrance to exhibitions are HUF700 adults, HUF350 6-26 and 62-70 years.