Szépasszony Valley (Valley of the Pretty Woman)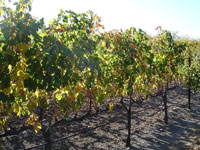 This beautiful valley with its rolling vineyards and century-old cellars and taverns is a favourite attraction in Eger. Wine producers welcome visitors into their quaint old cellars, hollowed out of the porous rock hundreds of years ago, where some of the country's finest red wines can be tasted, including the unique Bull's Blood. Legend has it that the name Bull's Blood originated from the times of Turkish occupation when, forbidden to drink wine by their religion, the cunning soldiers told their officers that they were drinking bull's blood to make them strong for battle and hoped the officers would be too squeamish to test the claim.
The rows of cellars are numbered and each has a particular charm, whether it is the sociable owner, the chequered tablecloths of an underground tavern or the wooden barrels of fermenting grapes in the uneven rock passageway. It is possible to visit, by prior arrangement, the 'Istenes Pince' or Godly Cellar, the oldest historic cellar in the region. It operated as a secret church during the Turkish occupation and the stone altar and religious works of art still remain in this very special place. Where the name, valley of the pretty women, comes from is unclear but it is a charming name for a charming area.