Qutub Minar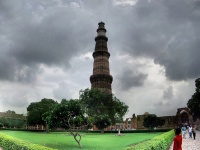 Qutb Minar © Panoramas
The Qutub Minar is a mammoth tower that was built between 1193 and 1369 to symbolise Islamic rule over Delhi, and to commemorate the victory by Qutab-ud-din over the city's last Hindu king. Standing 238 feet (72m) tall, the tower is decorated with calligraphy representing verses from the Quran, and tapers from 50 feet (15m) at the base to just eight feet (2.5m) at the top. There are five distinct storeys, each encircled with a balcony: the first three are built of red sandstone, and the upper two are faced with white marble.
At the foot of the minhar stands Quwwat-ul-Islam, India's oldest mosque, largely built from the remains of 27 Hindu and Jain temples destroyed by the Muslim victors. The cloisters that flank the nearby courtyard are supported by pillars that were unmistakably pilfered from Hindu temples, but fascinatingly, the faces that would have adorned these pillars have been removed to conform to Islamic law, which strictly forbids iconic worship.
Somewhat incongruously, in the corner of the mosque, stands the Iron Pillar, bearing 4th-century Sanskrit inscriptions of the Gupta period dedicating the structure to the memory of King Chandragupta II (373-413). It is said that anyone who can encircle the pillar with their hands whilst standing with their back to it will have their wishes fulfilled.
Address: Qutab Minar Complex, Mehrauli, nine miles (16km) from Connaught Place
Website: www.qutubminar.org/