Amber Palace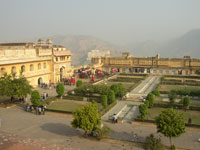 Situated on the crest of a hill seven miles (11km) north of Jaipur is Amber, capital of the Kuchwaha Rajputs from 1037 to 1728. The city-palace is protected by towering outer walls, and a further wall runs for miles along the hills surrounding the palace. For many, the most memorable part of a trip to Jaipur is the journey up the palace ramparts - through a succession of vast gates, on the back of a painted elephant, Maharaja-style. Inside are the ruins of a once-great palace: a wonderful example of Rajput architecture, with Mogul influences. Visitors will be able to see the remains of the Maharajas quarters surrounded by the rooms of his many wives and concubines, each linked to his bedroom by secret steps and passageways to avoid jealousy. Although much of the complex is closed to the public, there is still a large area to explore. Visitors are advised to spend at least a few hours here, and ideally to hire a guide who will explain the architecture and history of the palace. Don't forget to pack your camera - photo opportunities abound at Amber Palace - but note that there is a small additional fee for those who want to take photographs.
Transport: There are options for climbing the steep hill to the palace: an elephant ride, by jeep, or on foot.
Opening times: Daily from 8am to 5.30pm (Closed during the Holi Festival)
Admission: Rs. 200 (adult foreigner).