Jaipur City Palace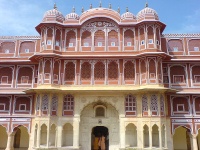 City Palace © Ekabhishek
The magnificent City Palace is in the centre of the Pink City of Jaipur, enclosed by high walls and set amid fine gardens and courtyards. Since Jai Singh built it in 1728, it has been the principal residence for the Maharajas of Jaipur and successive rulers have each added to it. The palace was built during the glory days and the exhibits and interior have lost none of their splendour: the doors and gateways preserve their flamboyant decoration; and royal retainers, clothed in turbans and full livery, still guard the principal halls and entrances.
Chandra Mahal is the private palace of the current ruler and is approached through a number of courtyards. Mubarak Mahal, in the first courtyard, was once a guesthouse and is now a textile museum. There are a number of other museums displaying old costumes and uniforms, carpets, mementos, elephant saddles and an armoury containing a fascinating array of fearsome and inventive weapons dating back to the Mogul era.
A beautifully-carved marble gate with brass doors leads to the second courtyard, where Diwan-I-Khas, the hall of private audiences, is found. On display here are two gigantic silver urns used by Madho Singh II to carry water from the holy Ganges with him when he travelled to London in 1902 on board an ocean liner - he was reluctant to trust the water in the West! These are said to be the largest silver vessels in the world - 243kg of silver was required to cast each urn, and they can hold 8,182 gallons of water.
Address: Chokri Shahad, Old City
Website: www.royaljaipur.in/