Udaipur Lake Palace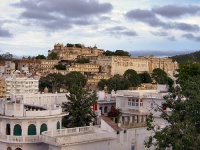 Udaipur City Palace © soylentgreen23
The white walls of Udaipur's Lake Palace soar above the peaceful waters of Lake Pichola, topped by ornamental battlements and turrets. The sprawling palace has been developed by successive maharanas since the foundation of Udaipur in 1559. These days, part of the palace is home to the current maharana, a section of it is a first-class hotel (with the best restaurant in the city), and the remainder is a museum.
The approach to the City Palace is through the Elephant Gate, Hati Pol. The Great Gate (Bara Pol) leads to the first court, where eight carved arches mark the spot where the rulers were once weighed against gold or silver, the equivalent value of which was then distributed among the poor. Beyond the Tripolia Gate is the arena where the elephant tug-of-war competitions were staged, past which are a series of courtyards, overlapping pavilions, terraces, corridors and hanging gardens.
The Krishna Vilas honours a 19th-century Udaipur princess, who poisoned herself to avoid the dilemma of choosing a husband from the two rival households of Jodhpur and Jaipur. Its walls display miniature paintings portraying royal processions, festivals and hunting parties. Further along, a glass mosaic gallery contains superb portraits and stained glass, and offers a wonderful panoramic view of the city below. Set into the walls of the 17th-century Mor Chowk are brilliant mosaics of three peacocks showing the three seasons: summer, winter and monsoon. Perhaps the most splendid rooms in the palace are the women's quarters, Zenana Mahal, with their ornate alcoves, balconies and coloured windows.
Udaipur's Lake Palace really does have a storybook quality to it - both in terms of its looks and its history - and it is rightly considered by all and sundry to be one of India's stellar tourist attractions.
Address: Pichola, Udaipur