Thiruvananthapuram (Trivandrum)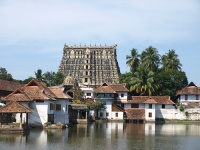 Padmanabhaswamy Temple © jynxzero
Situated on a hilltop at the southern end of India is Kerala's capital, Thiruvananthapuram (still commonly known as Trivandrum). For most visitors the capital is simply a transit-point on their way to Kovalam, the popular beach resort a few miles to the south. However, it is worth lingering for a day or so in this easy-going city to explore the narrow backstreets, old gabled houses and expansive parks.
The most fascinating part of Trivandrum is the Fort area, around the Shri Padmanabhaswamy Temple (closed to non-Hindus); and Puttan Malika Palace, seat of the Travancore Rajas. Some of the palace has been turned into a museum, and displays a collection of heirlooms and artefacts. However, the highlight is the building's typically understated, elegant Keralan architecture. Beneath sloping red-tiled roofs, hundreds of wooden pillars carved into the forms of horses prop up the eaves, with airy verandas projecting onto the surrounding lawns.
When it gets too hot at sea level, Ponmudi makes a welcome excursion. This enchanting hill station, tucked away in the Western Ghats 40 miles (64km) to the north of the capital, offers a lot to travellers with a passion for trekking, and just as much to those who'd prefer a gentle wander along narrow, winding pathways, through cool, wooded environs thick with mountain flowers and butterflies. The hill resort is surrounded by tea-estates and mist-covered valleys, and peppered with little stone cottages painted violet, pink and white.