Borobudur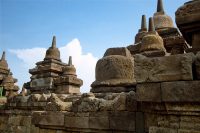 Borobudur © null0
One of the greatest Buddhist monuments in South East Asia, Borobudur was built in the 8th century and stands on top of a hill surrounded by volcanoes and overlooking green fields. It is an immense, multi-tiered structure with the Great Stupa (bell-shaped monument) at the top standing 128ft (40m) above the ground, surrounded by numerous smaller stupas, some still containing Buddha statues inside. It is part of a 2.5 mile-long (4km) chain of smaller temples, with the Mendut Temple containing three exquisitely carved giant statues of Buddha and two disciples inside. The terraces of Borobudur are covered in sculpted reliefs, with narrative panels illustrating Buddhist beliefs and teachings, and covering an estimated length of 3.5 miles (6km). These masterpieces of individual artistic value have been acknowledged as the most complete and splendid collection of Buddhist reliefs in the world. Built out of millions of blocks of the local volcanic rock joined without the use of mortar, Borobudur is listed as a UNESCO World Heritage Site and is the primary tourist attraction in Java, as well as one of the most iconic sites in Indonesia.
The temple lies 25 miles (41km) northwest of Yogyakarta. Unsurprisingly for such a famous attraction, Borobudur can get very crowded, which diminishes the impact of the place for some - try to get there for sunrise to avoid the throng and for the magical experience of seeing the day begin at the temple.
Transport: Inclusive tour from Yogya, or local bus from Yogya's Umbulharjo bus station.
Opening times: Daily 6am to 5pm; Manohara Hotel's Sunrise Tour allows visitors into the temple at 4:30am.