Guinness Storehouse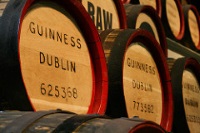 Guinness Storehouse © Corey Harmon
Guinness is now brewed all over the world but St James's Gate, in the heart of Dublin, was where Arthur Guinness set up the business in 1759. The Guinness Storehouse celebrates Ireland's favourite brew by taking visitors on a journey, floor by floor, through the past, present and future of the world-famous beer. The glass atrium is shaped like a pint glass and each floor explores a different aspect of 'everything anyone ever wanted to know about Guinness', from the brewing process to who drank the first pint. Although you can't view the actual brewing process you will be introduced to the machinery used through the ages and there are videos explaining how it all works. The tour finishes with a complementary pint of the famous stout in the top floor Gravity Bar, which is also the ideal place to watch the sunset over Dublin and admire the 360° views. During the July and August summer program there are also tasting sessions available, exhibitions and delicious Irish meals from a table d'hôte menu in the Brewery Bar or Source Bar. The shop on the premises also sells some really cool merchandise for Guinness lovers. There is very good wheelchair access to the whole facility.
Address: St James's Gate
E-mail: guinness-storehouse@guinness.com
Website: www.guinness-storehouse.com
Telephone: +353 1 408 4800
Transport: Bus 51B and 78A from Aston Quay, bus 123 from O'Connell Street or Dame Street.
Opening times: September to June: 9.30am-7pm July and August: 9am-8pm
Admission: Adults €18 adults. Concessions and discounts for online bookings available.