James Joyce Museum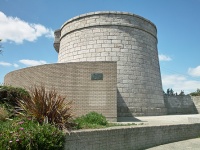 James Joyce Museum © William Murphy
Nine miles (14km) south of Dublin, the Martello Tower is one of 34 towers built in 1804 to protect Ireland against a possible Napoleonic naval invasion. The tower was demilitarised in the 1860s and is now home to the James Joyce Museum. In 1962 Sylvia Beach, the Paris-based publisher of Ulysses, founded the museum here. It was the place where Joyce stayed in 1904 and where he was inspired to set the opening chapter of his famous book. The exhibition hall contains first editions of most of Joyce's works as well as other interesting memorabilia, including one of the two official death masks made of Joyce, and reproductions of how the rooms would have looked when Joyce wrote the book. This is essentially a fans museum and it will delight lovers of Joyce and Ulysses in particular, but those who are not in the know may not be overly captivated. Having said that, everybody who visits will be astounded by the lovely views and picturesque setting of the tower and many find the historical structure interesting in its own right. The museum is now run by volunteers who are wonderfully friendly and enthusiastic. There is no charge for admission but donations are welcome.
Address: Sandycove
E-mail: joycetower@dublintourism.ie
Telephone: (0)1 280 9265
Transport: DART to Sandycove, or bus 59 from Dun Laoghaire
Opening times: Monday to Saturday 10am-1pm and 2pm-5pm, and Sunday and public holidays 2pm-6pm (April to October). Open by prior arrangement at other times.