Clonmacnoise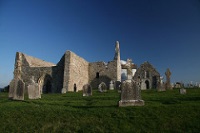 Clonmacnoise © Steven Isaacson
Clonmacnoise is Ireland's most important monastic site, and it's situated in Shannonbridge, west of Dublin in County Offaly. It was founded by Saint Ciaran in the 6th-century, on the banks of the River Shannon. It includes the ruins of a cathedral, eight churches (10th to 13th-century), two round towers, and three high crosses.
The site is extremely atmospheric, with some beautiful ancient stonework, and it provides the visitor with a real sense of what monasteries must have been like in their day. Everything still feels authentic and the spirit of place has been preserved. The Visitor Centre displays a large collection of grave slabs, hosts numerous exhibitions and provides further interest with an audio-visual show. It is a good idea to start with a browse around the museum to get some historical context before exploring the ruins, many of which are remarkably intact. There is lots to see and explore and Clonmacnoise offers some really glorious photographic opportunities. Although it is ideal to visit in good weather, as you will want to stroll around the whole site, even in mist and drizzle the ancient monastery ignites the imagination. As this is a very popular attraction, visitors may experience queues during the summer months.
Address: Clonmacnoise, Shannonbridge, Athlone, County Offaly.
Telephone: +353 90 9674195
Opening times: November to mid-March: 10am-5.30pm Mid-March to mid-May: 10am-6pm June to August: 9am-6.30pm September to October: 10am-6p
Admission: Adults €8, Children and Students €4. Concessions available.