Capitoline Hill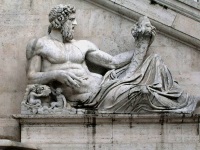 Sculpture at Capitoline Hill © Erin Silversmith
Capitoline Hill was the original capital of Ancient Rome and continues to serve as the seat of the city's government. It is the smallest, but also the most famous, of the Seven Hills of Rome, and once housed the Senate. The main feature of the area is Michelangelo's Piazza del Campidoglio, a testimony to the superiority of Renaissance town planning. The piazza is bordered by three palaces: the Palazzo dei Conservatori and the twin structures of the Palazzo dei Senatori and Palazzo Nuovo, which house the Musei Capitolini, containing the largest collection of Classical statues in the world. Among the notable statues found here are the Dying Gaul and the Satyr, the Capitoline Wolf with Romulus and Remus, and the Spinario. Paths cut along the side of the hill from the Campidoglio allow visitors to enjoy breathtaking panoramic views of the ancient sites of the Forum and Colosseum. Exploring this historic area is a must for anybody interested in ancient Rome and the sense of age and power is thrilling. Although the buildings are not all old the hill gives an amazing sense of what it must have been like during the peak of the Roman Empire. The steps to the top can be a bit daunting but the climb is well worth the effort, and there is access for disabled visitors.
Address: Piazza del Campidoglio, Rome
Website: www.museicapitolini.org
Telephone: +39 06 0608
Opening times: Museums are open Tuesday to Sunday, from 9am to 8pm. Closed 1 January, 1 May, and 25 December.
Admission: €15 (adults) for access to all the museums, with concessions available.