St Peter's Basilica (Basilica di San Pietro)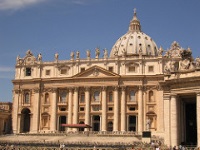 St Peter's Basilica © Darren & Brad
The Basilica lies above the reputed site of St. Peter's tomb. It has an overwhelming interior, containing notable sculptures including Michelangelo's Pieta, which is protected by bullet-proof glass since the damaging attack on it in 1972. In the central aisle stands Arnolfo da Cambio's bronze statue of St Peter, its foot worn down by the constant flow of pilgrims' kisses. Proudly resting above the papal altar is Bernini's Throne of St Peter. The Vatican Grottoes, containing papal tombs, can be reached by steps from the statue of St Longinus. The Necropolis is located one level below the grottoes. This is the legendary site of St Peter's tomb and advance permission has to be obtained to view it. Tours of the Necropolis, called the Scavi Tour, take about 90 minutes and are fascinating but must be booked well in advance. Children under 11 are not permitted on the tour. A strict dress code is in place for St Peter's Basilica and no shorts, bare shoulders or miniskirts are allowed (for men and women). There are frequent religious services at the Basilica which may disrupt visiting times. St Peter's Basilica is one of the most famous religious attractions in the world and even from a secular perspective is breathtakingly impressive, with enough art and history on offer to impress even the most experienced of travellers.
Address: Piazza San Pietro
Website: www.stpetersbasilica.info/contacts.htm
Telephone: +39 06 6988 5435
Opening times: Open daily from 7am to 7pm (April to September), and 7am to 6pm (October to March).
Admission: Entry to the Basilica is Free. Entry to the Dome carries a charge.