Vatican City and the Sistine Chapel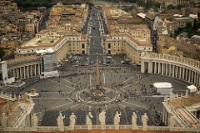 Vatican City © Diego Cambiaso
The Vatican City is a remarkable entity in that it is an independent state administered by the Roman Catholic Church, and one of the world's richest countries. The population of this enclave doubles during the working week as residents from Rome cross into the Vatican City to work within its boundaries. Scandal and intrigue has somewhat tarnished the papacy's image over the years, but this does not detract from the magnificence of the art collections housed within its buildings, or the passion the city inspires in the many pilgrims who flock to its holy sites. Pope Francis has brought the Vatican back into the limelight in many positive ways. The must-see attractions when on holiday in the Vatican City include St Peter's Basilica, the Vatican Museums, and the Sistine Chapel.
The Sistine Chapel, one of Italy's most popular attractions, is known for the famous ceiling, painted by Michelangelo, which looms above the frescoes on the side walls, painted by an illustrious team of artists that included Botticelli, Ghirlandaio, Roselli, Pinturicchio, Signorelli and della Gatta. The altar wall is covered by Michelangelo's Last Judgement, revealing the figure of Christ hovering above centre and flanked by Mary and other saintly figures. The chapel is justified in its fame and leaves travellers breathless; it is a profoundly special place to visit.
The Vatican Museums provide access to one of the world's greatest collections of art. The galleries stretch over four miles (6km), and include the magnificent Raphael Rooms, the Etruscan Museum, and the Pio-Clementino Museum, which boasts the world's largest collection of Classical statues.
Address: Viale Vaticano
Website: www.vatican.va