Piazza del Duomo (Cathedral Square)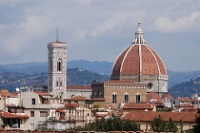 Piazza Del Duomo © Tammy Lo
Santa Maria del Fiore, the Duomo or Cathedral of Florence, is set in the heart of the city and perches above the metropolis like an emperor before his subjects. Its most distinctive feature is the enormous dome, designed by Filippo Brunelleschi and built between 1420 and 1436. Visitors can climb between the two shells of the cupola for an unrivalled panorama of the city.
The original Gothic exterior was destroyed in 1587 so that it could be replaced by the styling of the High Renaissance. However, this vision died prematurely with its patron, the Grand Duke Francesco de Medici, and the funding to build the neo-Gothic façade that we see today was not found until the 19th Century. The Campanile (bell tower) was built according to Giotto's designs in 1334, and is an elegant prop to Brunelleschi's stout Cathedral. The tower is decorated with two garlands of bas-reliefs, strung around its pink, white and green marble façade. Above, sculptures of the Prophets and Sybils, carved by Donatello, look down upon the city below.
The Campanile can also be climbed for the magnificent views over the square and the adjacent cathedral. The neighbouring Baptistry, with its famous doors designed by Lorenzo Ghiberti, is one of Florence's oldest buildings and was originally a pagan temple. The gilded brass doors, dubbed the 'Gates of Paradise', were commissioned in 1401 to mark Florence's deliverance from the plague. The original panels are in the Museo dell'Opera del Duomo (the Duomo Works Museum), which exists largely to safeguard the sculptures removed from the doors and niches around the Piazza del Duomo. The museum also contains the machines used in the construction of the cathedral's dome, and has displays devoted to the problematic construction of the cathedral's façade. A room containing Ghiberti's baptistry doors provides an opportunity to closely examine the stiacciato relief technique used.
Other noteworthy artefacts found in the museum include Michelangelo's Pieta, the carved figures of Donatello's Prophets as well as his Magdalene sculpture. In the anteroom are Andrea Pisano's panels from the first few levels of the bell tower.
Address: Piazza Duomo
Website: www.duomofirenze.it/index-eng.htm
Telephone: +39 0173 366167
Opening times: Cathedral open Monday to Saturday, from 10am to 5pm (Thursdays until 3:30pm; Saturdays until 4.45pm); and on Sundays from 1.30pm to 4.45pm. Museum open Monday to Saturday from 9am to 7.30pm, and on Sundays from 9am to 1.40pm
Admission: Cathedral entry is free, but there are admission fees for the baptistry, the dome, the cupola and museum.