Santa Croce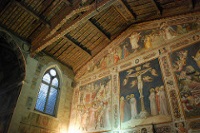 Sante Croce © fry_theonly
Santa Croce, a magnificent Gothic church built in 1294, contains the tombs of many celebrated Florentines, such as Michelangelo, Galileo, Ghiberti and Machiavelli. The Gothic interior is graced by the radiant frescoes of Giotto and his pupil Taddeo Gaddi, and integrated into the cloister next to the church is Brunelleschi's Pazzi Chapel (Cappella de' Pazzi). The tomb of famous composer Rossini is also a great favourite with visitors. When Lord Byron first laid eyes on the church he declared himself 'drunk with beauty'; a feeling shared by many visitors today. There is such a wealth of historic art and so many notable people buried at the church that tours are a great way to experience Santa Croce, but as it is a place of worship and they try to keep noise to a minimum headsets are compulsory for guided tour groups and must be requested at the Ticket Office by the tour leader. There are also detailed audio guides in English and other languages if you want to explore alone, but you will have to leave some form of identification at the desk when you collect one. The large square in front of the church is a great meeting place and there are some lovely restaurants and cafes about for refreshments.
Address: Piazza Santa Croce, 16
Website: www.santacroceopera.it/it/default.aspx
Telephone: +39 055 246 6105
Opening times: Open Monday to Saturday from 9.30am to 5.30pm, and on Sundays from 2pm to 5.30pm.
Admission: €8. Concessions are available