Palazzo Pitti and Giardino Boboli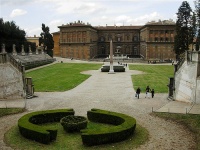 Palazzo Pitti © xiquinhosilva
Originally owned by the wealthy banker Luca Pitti, the Palazzo later became the property of the Medici family and was the one-time residence of the Italian king. It is a grand structure that now boasts no less than seven museums. Among these are the Medici treasures that are showcased in the Museo degli Argenti, the Museum of Costumes and the Porcelain Museum. The Galleria d'Arte Moderna provides a fascinating display of works from the Macchiaioli school - early 19th-century proto-impressionist paintings - as well as a collection of Neoclassical and Romantic art. The collections in the Palazzo Pitti can keep visitors captivated for hours.
Extending behind the palace are the elaborately landscaped and beautifully maintained Giardino Boboli (Boboli Gardens), one of the oldest gardens in Italy and well-known for its fountains and grottoes. The most celebrated aspect of the gardens is the Grotta del Buontalenti, located close to the entrance. In the deepest recess of the cave is the sculpture Venus Emerging from her Bath, attended by curious imps. Another notable structure is the enormous amphitheatre designed on a scale to serve the Medici's tastes.
Address: Piazza Pitti 1
Website: www.polomuseale.firenze.it/en/musei/pitti.php?m=palazzopitti
Telephone: +39 055 294 883
Opening times: Each museum has its own opening hours, but most are closed on Mondays
Admission: There are a variety of ticket options available. Check the website for further details.