Montepulciano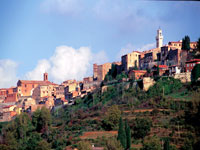 Montepulciano is Tuscany's highest hilltop town, built along a narrow limestone ridge at 1,950ft (605m) above sea level. Although not quite as well known as some of the other historic hill villages in Tuscany, Montepulciano is fast being 'discovered' by tourists seeking out the best of the region, and it benefits from not being thronged by visitors, retaining its mystery and authenticity. Sheltered within the town's fortified walls are charming streets packed with Renaissance-style palaces and churches. Within the incredibly intact historic centre no major building work has been done since 1580, making it one of the best-preserved historic centres in Italy. Montepulciano's most celebrated achievement is its Vino Nobile wines. Also of interest is the Madonna di San Biagio, a delightful pilgrimage church on the outskirts of the town. For a dip into Etruscan reliefs and funerary urns collected by Pietro Bucelli, visit his Palazzo on Via di Gracciano del Corso 73. For splendid views, take a stroll to the Palazzo Communale and climb the tower. The village also boasts some lovely Tuscan restaurants and is wonderfully picturesque, with a backdrop of vineyards, corn, sunflowers and distant forested hills. It would be difficult to be bored or unimpressed in this special village.
Address: Via Ricci 9 (Tourist office)
Opening times: Palazzo Communale's tower is open from 9am to 2pm, Monday to Saturday.