Etruscan Sites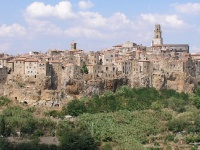 Pitigliano © GiorgioPro
Attracted by the mineral wealth found in the regions of Tuscany, Lazio and Umbria, the Etruscans made their way to Italy around 900 BC. Traces of Etruscan civilisation can be found in their burial sites and in the artefacts found in their tombs. They were preoccupied with the afterlife and dedicated much effort to building burial sites carved into rock, or constructed from stone slab and reached by purpose-built rock-cut roads.
For an exploration of Etruscan artefacts start at Grosseto. The Museo Civico Archeologico in Grosseto contains a selection of Etruscan artefacts that were found in tombs nearby. Head north from here to Roselle, the most important excavated Etruscan and Roman remains in Tuscany. From here, follow the road leading east for 34 miles (54km) to the Etruscan village of Saturnia to explore its rock-cut tombs and then on to Sovanato to see the famous Ildebranda Tomb.
The town of Pitigliano is peppered with Etruscan tombs and tunnels. The town itself is a spectacular vista of houses jutting out over soft limestone cliffs and caves bordering the River Lente. The cliffs contain numerous caves that have been used to store local wines and olive oils and the town itself is a labyrinth of medieval streets that have carried the passage of many a traveller. From this quaint town, head west to the extensive necropolis on the outskirts of Marsiliana. Complete the trip with a stop at Talamone and Maremma, for a visit to the Etruscan temple, Roman villa and baths.
In addition to these more famous examples, the region is scattered with evidence of the Etruscans - look out for signposts as you explore!
Address: Lazio and Umbria
Website: whc.unesco.org/en/list/1158