Duomo San Gennaro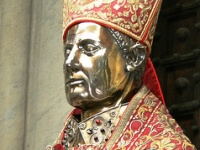 The Chapel of San Gennaro is accessed from the south aisle of the Cathedral of Naples. This 13th-century Gothic building is dedicated to the patron saint of the city. Tradition tells the story of how two phials of San Gennaro's congealed blood liquefied in the bishop's hand after his martyred body was transported to the church. Legend has it that disaster will strike if the blood fails to liquefy on specific festival days - the first Saturday in May, on September 19 and December 16. The liquefaction ceremony, known as the Miracle of the Blood, takes place during a special Mass in full view of the congregation. The first chapel on the right upon entry into the cathedral is dedicated to San Gennaro (also known as Saint Januarius) and holds the famous phials of blood and a silver reliquary containing his skull. Beneath the Duomo are the excavations of well-preserved Greek and Roman roads that stretch beneath the modern city. Special tours of the excavations can be arranged. Generations of wealthy Neopolitains funded the cathedral and it is a treasure trove of local history and religious iconography. Visitors should be aware that there have been some incidents of pickpocketting outside of the cathedral.
Address: Via del Duomo 147
Telephone: +39 081 449 097
Opening times: Open Monday to Saturday from 8am to 12.30pm, and 4.30pm to 7pm; Sundays from 8am to 1.30pm and 5pm to 7.30pm. The archeological area is open on weekdays from 9am to 12pm and 4.30pm to 7pm. On festivals and the days before festivals the site is open from 9am to 12.30pm.
Admission: Cathedral: Free; Archaeological site: €3