Museo e Gallerie di Capodimonte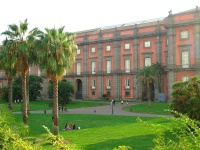 This museum occupies a restored 18th-century palace perched on the city's hills, and its artworks are arranged by collections and not chronology. The Farnese and Bourbon rulers amassed impressive collections of Renaissance paintings and Flemish masterpieces that can be viewed along with other great works. Notable among these are Masaccio's Crucifixion, Filipino Lippi's Annunciation and Saints, Raphael's Leo X, Bellini's Transfiguration, Michelangelo's Three Soldiers and Breughel's The Allegory of the Blind.
The palace is an attraction in its own right and the royal apartments are beautifully decorated and preserved with their 18th-century furnishings. Capodimonte is a pleasant neighbourhood in Naples, and the park surrounding the gallery is great for a peaceful stroll after ogling the art and finery of the museum. Various rooms and sections of the museum are closed to the public periodically for maintenance but the collection is so vast that this usually hardly matters; however, to avoid disappointment, check ahead how much of the museum is open, or ask at the entrance before buying your ticket. Although the collection is fascinating, the audio guide is not amazing and perhaps not worth the additional cost.
Address: Via Milano 2, Capodimonte Park