Paestum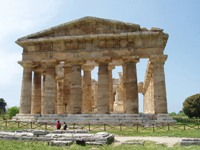 Paestum © Peter Schule
The well-preserved Greek temples of Paestum are arguably the best of their kind in the world, easily rivalling those of Sicily and Athens. The city was founded by its Greek colonists in the 7th Century BC, and later fell under Roman rule (until it was no longer commercially successful and its inhabitants fled for greener pastures). The north-south axis of the city is marked by the paved Via Sacra and most guided tours begin at its southern end. A guide to the excavations and Archaeological Museum can be bought at any of the roadside shops. Notable among the remains are three Doric temples, the best-preserved of their kind in the world. Built without the use of cement or mortar, these remarkable structures comprise the Basilica, the Temple of Poseidon and the Temple of Ceres. Heading north along Via Sacra will take one to the Roman Forum, gymnasium and amphitheatre. Finally, Paestum's Museum contains a fascinating collection of pottery and paintings found in the tombs of the area. The main temples are fenced off so you can't wander through them, but many other ruins can be explored without hindrance and the site is often pleasantly devoid of tourists, leaving visitors to explore at their leisure in peace and with remarkable freedom.
Address: Campania region, southern Italy
Transport: Train from Naples, 40km south of Salerno.