The Grand Canal (Canalazzo)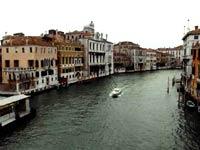 Venice's main waterway splits the city in half, with sestieri in equal parts to the west and east of it. It is the hub around which much activity in Venice is concentrated and is encircled with elegant facades of the palazzi, which testify to the city's past opulence. Many of the picture-perfect scenes that make Venice famous can be discovered along the Grand Canal.
The best way to explore the architectural splendour of these Renaissance buildings is on board a vaporetta. Pedestrian access across the canal is only provided along three bridges situated at the station, Rialto and Academia. Gondolas cross the canal at regular intervals and provide a romantic interlude to the sightseeing itinerary. Although a gondola ride along the Grand Canal is glorious, it is often better to explore the smaller waterways by gondola, as the Grand Canal can become crowded and stressful in peak season.
Grand Canal palaces and buildings to look out for include the Ca da Mosto, with its rounded arches in low relief. The 'House of Gold' (Ca d'Ora) is a beautiful Gothic building constructed between 1424 and 1430. Palazzo Corner-Spinelli and Palazzo Vendramin Calergi combine classical and Byzantine elements designed by Mauro Codussi. Architect Jacopo Sansovino was inspired by Codussi's style and infused this in his creation of the Palazzo Corner (Ca Granda). Another notable Palazzo is the Grimani di San Luca, designed by Michele Sanmicheli. A visit to Venice is not complete without wending your way down the Grand Canal.