National Gallery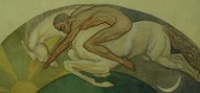 Into The Sun by Edna Manley © Michael L. Dorn
Kingston's National Gallery displays the works of Jamaica's talented artists, particularly that of Edna Manley (19th-century sculptor and the wife of a former prime minister of Jamaica) and other artists who have been inspired by her work.
Manley's acclaimed Ghetto Mother stands in the main lobby, along with a bronze statue by Christopher Gonzalez of reggae singer Bob Marley. Other highlights include the religious works of Mallica Reynolds, who has been hailed by art critics as a modern genius. The collection gives the viewer some interesting insights into Jamaican history and culture.
The downstairs area is used for temporary exhibitions and the permanent collection is upstairs. There is a small gift shop which sells some prints and other good gifts, and a coffee shop for refreshments. Photography is not allowed in the gallery. Entrance is free for all but donations are encouraged.
Address: 12 Ocean Blvd, Block C
Website: www.natgalja.org.jm