Doctors Cave Beach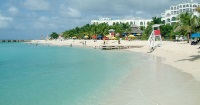 Doctors Cave Beach © User:Op. Deo
The story of Montego Bay's most famous beach began in 1906, when a group of doctors decided to found a bathing club on a beach property donated for the purpose by Dr Alexander James McCatty. Access to the small beach at the time was through a cave - hence the name Doctor's Cave. The cave was destroyed in 1932 in a fierce hurricane, but the bathing club has lived on and the beach has become legendary.
The water, fed by mineral springs, is always crystal clear and has a temperature ranging between 78°F and 84°F (26°C and 29°C). Sir Herbert Barker, well-known British osteopath, claimed back in the 1920s that the waters of the beach have curative powers, which made the bathing spot even more alluring for foreign visitors. Today, access to the beach, which is located in the middle of Montego Bay's 'Hip Strip', Gloucester Avenue, is controlled through a smart entrance way and a complex of changing rooms, showers, gift shops, and the 'Groovy Grouper' beach bar.
It is an absolutely beautiful beach but not a long one, so it can get a bit crowded at times - try and go on a week day but avoid Wednesdays when cruise ships often drop crowds off.
Website: www.doctorscavebathingclub.com