Croydon in the Mountains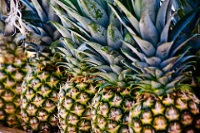 Pineapples © Garry Knight
Jamaica's national hero, Samuel Sharpe - the slave who led the bloody 'Christmas Rebellion' of 1831 and helped to expedite the emancipation of Jamaica - was born on this still-working plantation in the interior, 24 miles (39km) from Montego Bay.
Three-hour-long guided tours of the Croydon coffee and pineapple plantation run from Montego Bay, and have become a must-see for every visitor to the island. Tours give visitors some interesting insights into the history and processes of coffee and pineapple production, as well as the chance to savour some of Jamaica's exotic fruits. You'll learn about the traditional medicinal properties of some of the plants and will get the chance to sample and buy the coffee produced on the plantation. One of the highlights is just the location, which is beautiful. A delicious meal is served at the end of the tour and at this point the owner of the plantation often makes an appearance, which is nice.
This award-winning plantation is a joy to explore and the tours are informative and fun, giving one a lot of insight into the plantation lifestyle. Transport to and from the main Montego Bay hotels and the Grand Palladium Resort in Hanover is provided by the plantation.
Website: www.croydonplantation.com