Dunns River Falls and Dolphin Cove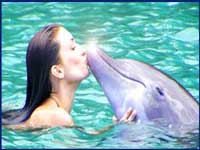 Just about two miles (3km) west from the centre of Ocho Rios is the popular beach and waterfall attraction of Dunn's River. The waterfall cascades down 600ft (183m), forming cool pools among slippery rocks, and a favourite tourist pursuit is to climb to the top of the falls with a guide, enjoying being splashed by the cold, clear mountain water en route. Water shoes are a good idea because the rocks can be very slippery, but people of all ages manage the activity and one can turn back and climb down at any stage. If you prefer not to get wet but still want to enjoy the beautiful scenery you can hike alongside the falls. There is a restaurant on the beach below.
Alongside the Dunn's River Falls in Ocho Rios is Dolphin Cove, where visitors can swim with a family of bottlenose dolphins. The natural cove is surrounded by four acres of lush tropical rain forest. The cove is also home to other marine species, such as rays, eels and sharks; as well as tropical birds, like the macaw. Swimming with the animals is a profound experience that makes it onto many people's bucket lists. The park offers a few different packages and activities for visitors. There is a gift shop located on site, selling souvenirs.
Website: www.dolphincoveja.com