Green Grotto Caves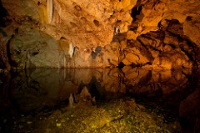 Green Grotto Caves © Brandie
One of Jamaica's most prominent natural attractions, the huge, labyrinthine limestone cave is 5,000 feet (1,524m) long and characterised by stalactites, stalagmites, overhead ceiling pockets, numerous chambers, light holes, and a subterranean lake in its depths.
The caves have played an important role in Jamaican history: the island's original inhabitants, the Arawak Indians, used them for shelter; they were used as a hideout for Spaniards during the British take-over; they were a natural haven for runaway slaves; the Jamaican government used them to store barrels of rum during World War II; and they were even used as a den for smugglers running arms to Cuba. They were also used as a setting for scenes from the 1973 James Bond film, Live and Let Die.
Located just a short distance from Runaway Bay, the history and natural features makes this a fascinating excursion for adults and children alike.
Address: Runaway Bay
Website: www.greengrottocavesja.com